O C E A N S I D E, CALIFORNIA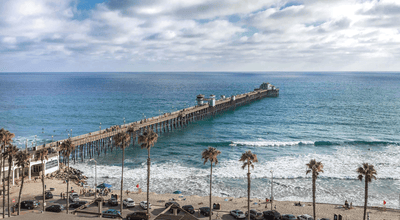 L E S S O N S FROM THE BEST
Testimonial
"My fiancée and I were visiting San Diego and drove up to Oceanside specifically for Whitlock. It's a small family run business, which we love supporting, and the owner is super nice. Our surf instructor was Captain Ron who was totally awesome. He was extremely supportive and really actively coached all of us during the two hour lesson. With his help, I actually got up on the board and felt like a legit Cali surfer chick for a hot second. They also do very reasonably priced full day wet suit and board rentals. Bonus- the shop sells really cute merch and I bought a cute white crop top which I will rock on the East coast. I will definitely be back when I'm back in the area."
- Cat C. from Cambridge, MA
Surf Lessons for Everyone
Hit the surf for our two-hour surf lesson. Have your CPR Certified instructor's absolute attention as you learn the surfing basics – while having fun! Whitlock Surf Experience group surfing lessons are a great value for your money and a safe environment where you can learn to not only surf, but also learn about paddling, wave selection, surf etiquette, and what to do in currents.
Don't worry about organizing your own group – we'll make a group of 2 or more  student surfers ready to team up and go shred! Surfboard and leash are provided. You provide your swimsuit, sunblock, and the stoke! 
BOOK NOW
Surf Camps for Everyone
Surf camps at Whitlock Surf Experience are second to none! Since 1997 the Whitlock's, along with their CPR certified instructors, have been teaching the youth (6+) not only just how to surf, but the whole spectrum of surfing. Between our special activities such as - surfing exercises, eco tours, talking with lifeguards, exploring marine life, and mock water rescue on jet skis there is a plethora of skills your children are going to learn throughout the week. 
Our professionally trained instructors are not only great surfers, but also outstanding individuals in and out of the water. There is a 5 to 1 kid ratio between the instructors to make sure each kid gets enough attention and waves throughout the day.
BOOK NOW
Testimonial
"After wanting to learn to surf for a while, I had the opportunity to take a lesson with Skylar an Carl while I was in Carlsbad for a few days. These guys were AWESOME! I was pretty nervous about being crushed by waves but they built up my skill and confidence and got me up on my board. Both Skylar and Carl were both extremely patient and personable. Once we got going, I never felt unsafe under their watch. Our group was small (5 people) so we all got a lot of personal attention. I would highly recommend this shop for lessons (and they make custom boards as well when you're good enough to catch the really, really, really good waves!)"
- Runner G. from Vail, CO
SURF COACH & OCEAN GUIDE
Improve your surfing or surf a new spot with a local. Guarantee a quality, safe, and stoked Surf Experience!
BOOK NOW
Testimonial
"I've been trying and failing on and off for the last decade to stand up on a wave. Living hundreds of miles away from the coast most of my life limited the amount of time I could really dedicate to practice. This last weekend my wife took us to Oceanside as part of a belated birthday trip. We arrived at Whitlock for the early class and met their incredibly friendly and knowledgeable staff. We got our gear sorted quickly and drove off to the beach with our instructor, Captain Ron. Our class was very small and that allowed Cpt. Ron to monitor our attempts and give very personalized instructions to get each of us back on the board after a fall. With his help I (and every other student, by the way) was standing up and taking waves into the shore. We all had a blast and learned so much. Ron was very friendly and a great teacher. Thank you very much, Captain! I will absolutely be back the next time we are in San Diego."
- Robert K. from Sierra Vista, AZ